Profile Editors
The following people can edit this profile: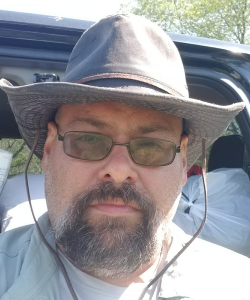 Dreslik, Michael Joseph
Assistant Research Scientist - Population Ecologist

Address and Contact Information
182 Natural Resources Building
607 East Peabody Drive
M/C 652
Champaign
,
IL
61820
Academic Interests
My research focuses primarily on the ecology, conservation, and life history of amphibians and reptiles, predominantly turtles and pit-vipers. My research spans a multidisciplinary approach to understanding these foci ranging from population ecology, demographics, spatial ecology, behavior, thermal biology, physiology, population genetics, and wildlife disease. For my larger long-term projects, I integrate this multidisciplinary approach to achieve conservation goals oriented at recovery and maintaining viable populations of imperiled species.

Key Words - Conservation, Population, Spatial, Behavioral, and Community Biology of Reptiles and Amphibians.
Professional Affiliations
Professional Societies
Turtle Survival Alliance
Society for the Study of Amphibians and Reptiles
Herpetologists League
American Society of Icthyologists and Herpetologists
Conservation Related
Illinois Eastern Massasauga Recovery Team
Illinois Alligator Snapping Turtle Recovery Team
Illinois Blanding's Turtle Recovery Team
Selected Publications
Feng, C. Y. †, D. Mauger, J. P. Ross, and M. J. Dreslik. 2019. Size and Structure of two populations of Spotted Turtle (Clemmys gutatta) at its western range limit. Herpetological Conservation and Biology. 14(3):648–658.
Feng, C. Y†., J. P. Ross, D. Mauger, and M. J. Dreslik. 2019. A long-term demographic analysis of Spotted Turtles (Clemmys gutatta) in Illinois using matrix models. Diversity. 11(12):1–23. doi:10.3390/d11120226.
dePersio, S., M. C. Allender, M. J. Dreslik, L. Adamovicz, C. A. Philips, B. Willeford, L. Kane, S. Joslyn, and R. T. O'Brien. 2019. Body condition of Eastern Box Turtles (Terrapene Carolina Carolina) evaluated by computed tomography. Journal of Zoo and Wildlife Medicine. 50(2):295–­302.
Petersen, C. E., A. M. Goetz, M. J. Dreslik, J. D. Kleopfer, and A. H. Savitsky. 2019. Sex, mass, and monitoring effort: Keys to understanding spatial ecology of Timber Rattlesnakes (Crotalus horridus). Herpetologica. 75:162–174.
Ross, J. P.†, R. B. Bluett, and M. J. Dreslik. 2019. Movement and home range of the Smooth Softshell Turtle (Apalone mutica): Spatial ecology of a river specialist. Diversity. 11(8):124. doi:10.3390/d11080124.
Education
2005 - PhD., Natural Resources and Environmental Sciences, University of Illinois
1996 - MS, Biology, Eastern Illinois University
1994 - BS, Zoology, Eastern Illinois University
1992 - AS, Biology/ Education, Lake Land College
LDAP Details for

Dreslik, Michael Joseph