Profile Editors
The following people can edit this profile: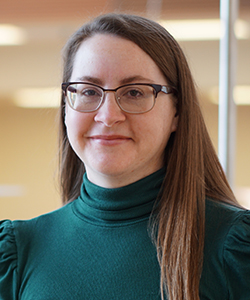 Meschewski, Elizabeth Lynn
Senior Scientific Specialist

Address and Contact Information
Illinois Sustainable Technology Center
1 Hazelwood Dr. M/C 676
Champaign
,
IL
61820
Biography
Elizabeth Meschewski joined the Illinois Sustainable Technology Center (ISTC) in April 2011 as a Research Assistant in the Applied Research on Industrial and Environmental Systems (ARIES) group and is now a Senior Scientific Specialist in the Administration group. Beth communicates ISTC's research and technical assistance activities by creating displays, posters, and website content. She also coordinates the Hazardous Waste Research Fund - a special fund from the State of Illinios dedicated to the reduction of hazardous waste and the protection of groundwater. She co-coordinates the annual emerging contaminants conference with the IL-IN Sea Grant. She is also serves as the outreach specialist on a number of grants focusing on emerging contaminants in the environment.
How to pronounce Meschewski: Me (Meh; like the meh emoji) - schew (shess; like chess but with 'sh' sound) - ski (ski; like down hill skiing) Meh-shess-ski
Education
M.S. in Environmental Engineering, University of Illinois Urbana-Champaign (2010)
B.S. in Geology, University of Illinois Urbana-Champaign (2008)
Research Interests
Fate, transport, and remediation of emerging contaminants in the environment
Reduction of hazardous materials and waste
Selected Publications
Meschewski, E.L., N. Holm, B. K. Sharma, K. Spokas, N. Minalt, J. J. Kelly. 2019. Pyrolysis biochar has negligible effects on soil greenhouse gas production, microbial communities, plant germination, and initial seedling growth. Chemosphere, 228:565-576. DOI: 10.1016/j.chemosphere.2019.04.031.
Allender, M.C, M.J. Dreslik, B. Patel, E.L. Luber, J. Byrd, C.A. Phillips, and J.W. Scott. 2015. Select metal and metalloid surveillance of free-ranging Eastern box turtles from Illinois and Tennessee (Terrapene carolina carolina). Ecotoxicology, 24(6):

1269-1278

. DOI: 10.1007/s10646-015-1498-5.
LDAP Details for

Meschewski, Elizabeth Lynn