Profile Editors
The following people can edit this profile: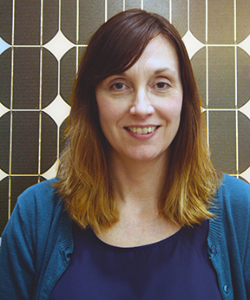 Martin, Jennifer
Environmental Program Development Specialist

Address and Contact Information
1 E Hazelwood Dr
Champaign
,
Illinois
61820
Biography
Jennifer identifies and tracks emerging issues and research needs related to energy, waste, public health, and the environment. Through her work, Jennifer collaborates across commercial, public, and private sectors to expand ISTC's efforts to solve important environmental issues. Her professional career includes a wide range of experiences developing and evaluating programs on energy and conservation. This work has been fundamental in the development and implementation of solar energy training workforce strategies which are now helping to build a more robust renewable energy market across the Midwest.
Currently she is leading the Solar Photovoltaic (PV) End-of-Life Initiative's at ISTC. Through these initiative's ISTC is conducting, coordinating, and fostering industry engagement and applied research that leads to innovations and a better understanding of the needs for preparing the state for an end-of-life plan for PV modules.
Education
M.S. in Sustainable Management, University of Wisconsin
A.A.S. in Sustainable Energy, Ivy Tech of Indiana
B.F.A., Ball State University
Research Interests
Education and behavior change as it relates to sustainability
Renewable energy and energy infrastructures necessary for accommodating current and future needs
Alternative fuels and transportation needed for clean transportation systems
Water quality and sustainability challenges
Waste management and healthy ecosystems
Professional Affiliations
Communications Industry Training and Certification Academy
Illinois Solar for All Working Group
Illinois Downstate Caucus
Illinois Solar Energy Association
Illinois Recycling Association
Illinois Product Stewardship Council
Interstate Renewable Energy Council
Midwest Renewable Energy Association
North American Board of Energy Practitioners
Solar Powering Illinois Conference: Planning Committee
Solar Power Midwest Conference: Planning Committee
Solar Power Midwest - Solar Jobs Strategy Meeting: Planning Committee
U.S. Department of Energy: Solar Decathlon — Purdue University InHome: Solar Team Member
LDAP Details for

Martin, Jennifer