Profile Editors
The following people can edit this profile: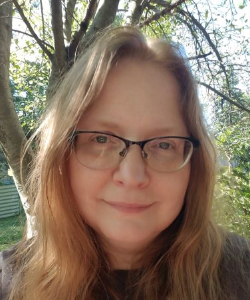 Scrogum, Joy Joann
Assistant Scientist, Sustainability

Address and Contact Information
1 E. Hazelwood Drive
M/C 676
Champaign
,
IL
61820
Biography
Joy is an Assistant Scientist, Sustainability, with the Technical Assistance group at ISTC. She works primarily on zero waste initiatives, helping businesses, organizations, and individuals identify and implement strategies for waste reduction and efficiency. Recently, Joy served as part of the team responsible for the Forest Preserves of Cook County Sustainability & Climate Resiliency Plan. Examples of past projects include content and program support for the Great Lakes Regional Pollution Prevention Roundtable (US EPA funded project) and Greening Schools (with IL EPA, focused on K-12 schools). She coordinated the Sustainable Electronics Initiative, and served as project director for the International Sustainable Electronics Competition (formerly the International E-Waste Design Competition, ended in 2013). She launched and coordinated the Illini Gadget Garage, a collaborative electronics repair center that empowers consumers and encourages the extension of product life through repair to curtail the generation of waste. She also developed the Green Lunchroom Challenge, which began as a voluntary pledge program focused on food waste prevention and reduction in K-12 schools, funded by US EPA Region 5, and continues as a topical blog offering food waste prevention and reduction tips for a variety of institutions. Joy developed and taught a class in Spring 2014 in collaboration with the College of Engineering and the Technology Entrepreneur Center on "Sustainable Technology: Environmental and Social Impacts of Innovations," and has guided students in various waste-related projects, including the creation of a sculpture from plastic bottles pulled from the UI waste stream, which was displayed at Krannert Center for Performing Arts during Earth Week in 2016.
Education
B.S. Liberal Arts and Sciences (Biology) from University of Illinois at Urbana-Champaign
M.S. in Natural Resources and Environmental Sciences (NRES; specializing in wildlife ecology) from University of Illinois at Urbana-Champaign
Professional Certifications
International Society of Sustainability Professionals Certified Sustainability Professional (ISSP-CSP), valid through January 11, 2022
International Society of Sustainability Professionals Sustainability Associate (ISSP-SA), January 2017 – January 2019 (Prerequisite for the ISSP-CSP, which replaces the ISSP-SA credential, when obtained.)
LEED Green Associate, December 2016 – December 2022
International Society of Sustainability Professional (ISSP) Sustainability Professional Certificate Program, completed October (Precursor to the ISSP professional credentialing program.)
Introductory and Advanced Community-Based Social Marketing Workshops with Doug McKenzie-Mohr, Minneapolis- St. Paul, June
Introduction to Sustainability Coursera Course, University of Illinois, May 2013
Professional Affiliations
Member, International Society of Sustainability Professionals
Member, Illinois Food Scrap Coalition. Chair, Social Networking/Web Site Committee
Member, Illinois Recycling Association
Leadership Positions
Board of Directors Member, Champaign County Environmental Stewards (CCES), April 2019 to present
Active participant in Illinois Wasted Food Solutions Task Force, and working group on school food reduction toolkit
Member, ISTC Web Advisory Committee, September 2018 to present
Co-founder (with Madeleine Wolske) of Thrift Story CU
Member, campus Sustainability Working Advisory Team on Purchasing, Waste, and Recycling, of IL, 2016- 2018
Guest editor, special issue of the journal Challenges: "Electronic Waste—Impact, Policy and Green Design"
Mentor, Illinois Promise, August 2014-2017
Volunteer, IDEA Store, 2012
Volunteer reader, Illinois Radio Reader, 2009-2012
Board member, HomePlanet, Inc., a local environmental organization founded by Carol Morgan. Materials for the arts aspect eventually morphed into the IDEA Store.
Courses Taught
Osher Lifelong Learning Institute (OLLI) at Illinois course, "Reuse as a Sustainability Strategy," Fall 2017. Included in the 2018 Ellen MacArthur Foundation publication, "A global snapshot of circular economy learning offerings in higher education."
Developed and taught ENG/TE 498, Sustainable Technology: Environmental and Social Impacts of Innovations (Spring 2014; Brian Lilly, professor of record). Introduced environmental and social impacts of electronic devices through each stage of the product life cycle.
Selected Publications
Forest Preserves of Cook County Sustainability & Climate Resiliency Plan, September 2018 (with Shantanu Pai, Griffin Charnas, and Ian Hughes)
Northwestern University Integrated Solid Waste Management Plan 2018 (with Kathia Benitez and Julie Cahillane, Northwestern University, and Shantanu Pai, UIUC)
Recycling and Waste Reduction Opportunity Assessment, Springfield [IL] Public Schools District 186, March 2016 (with Shantanu Pai)
"The Double-Edged Sword: Environmental and Social Impacts of Technology," Issue no. 102, Spring 2014 edition of A Matter of Spirit, quarterly journal of the Intercommunity Peace & Justice Center
Recycling and Waste Reduction Opportunity Assessment, Forest Preserve District of Cook County, December 2014 (with Shantanu Pai and John Mulrow)
"Why younger minds will solve the e-waste crisis, " November 12, 2013, P2 Impact column for GreenBiz.com
Honors and Awards
Phi Beta Kappa
Phi Eta Sigma
Golden Key National Honor Society
Human Dimensions of Environmental Systems Scholar, 1999-Spring 2001, University of Illinois at Urbana-Champaign
Jonathan Baldwin Turner Fellow, Fall 1997-Spring 1999, University of Illinois at Urbana-Champaign
Space Life Sciences Training Program, Summer 1995, NASA Kennedy Space Center
Howard Hughes Undergraduate Life Sciences Fellow, Fall 1993, University of Illinois at Urbana-Champaign
LDAP Details for

Scrogum, Joy Joann