Profile Editors
The following people can edit this profile: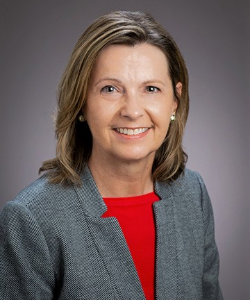 Keefer, Laura
Illinois State Hydrologist
Fluvial Geomorphologist
Head, Watershed Science Section

Address and Contact Information
Illinois State Water Suvey
2204 Griffith Dr.
M/C 674
Champaign
,
IL
61820
Education
M.S., Geography, University of Illinois at Urbana-Champaign
B.S., Geology, University of Illinois at Urbana-Champaign
Professional Certifications
Certified Professional Hydrologist (PH) - American Institute of Hydrology
Research Interests
Research interests are erosion and sedimentation processes by conducting applied multi-scale research studies of the hydrology, hydraulics, and channel character of Illinois watersheds. Current focus is on documenting and evaluating stream channel adjustment responses to watershed and channel disturbances in the various physiographic regions of Illinois that has application for the selection of stream restoration practices, as well as understanding the spatial, temporal, and physical context of different channel adjustment responses. Over 30 years experience in multi-scale watershed monitoring studies of hydrology, sediment, and nutrients for many Illinois watersheds including Lake Springfield, Upper Sangamon River, both Vermilion Rivers, Upper Embarras River tributaries, Kaskaskia River tributaries and Cache River Basin.
Serves as technical and or science advisor, as well as Water Survey representative, on dozens of committees ranging from watershed planning to state and federal interagency task forces to resolve hydrologic, sediment and nutrient watershed issues.
Head, Watershed Science Section. Oversees all aspects of research studies, which include proposal development, staff management, performing data analyses, and preparation of publications and presentations.

Directs the Illinois Benchmark Sediment Monitoring Program (BSMP) activities and data analyses. The purpose of network is to determine long-term trends in sediment transport, estimate sediment loads in unmeasured watersheds, and target and evaluate long-term effectiveness of BMPs. Manages the ISWS Sediment Laboratory in Champaign.

Additional Resources
LDAP Details for

Keefer, Laura