Profile Editors
The following people can edit this profile: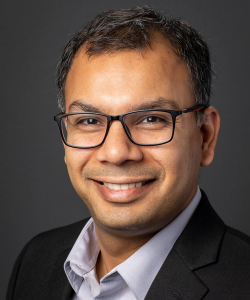 Sharma, Ashish
Illinois Research Climatologist
Adjunct Professor, Department of Atmospheric Sciences
Center Affiliate, National Center for Supercomputing Applications

Address and Contact Information
2204 Griffith Dr.
Champaign
,
IL
61820
Biography
My research interests lie in atmospheric sciences and land/ocean-atmosphere interactions at a range of spatial scales (regional to local) that are relevant to the management of human and natural systems. My research focuses on reducing vulnerabilities and increasing readiness in urban, agricultural, and natural environments in a changing climate. I perform targeted dynamical downscaling experiments with the overarching goal of creating "bridges" between global, regional and micro-scale modeling. Another dimension of my research is to work at the intersection of science, engineering, and social sciences to perform collaborative and translational research that benefits society. I am a fellow of the Royal Meteorological Society and an executive committee member of the Center for Urban Resiliency and Environmental Sustainability (CURES) across the University of Illinois system. I collaborate with cities and institutions to work on environmental issues related to heat, fog, air quality, and high impact weather.
Education
Ph.D. Aerospace Engineering, Arizona State University, 2012
M.S. Aerospace Engineering, Arizona State University, 2009
B.Tech. Electronics and Communication Engineering, Jaypee University of Information Technology, 2007
Research Interests
Regional climate modeling: Land/ocean/lake-atmosphere interactions, lake breeze, UHI effect, land data assimilation, hydrometeorological extremes
Microscale modeling: Climate modeling at hyper-local scales (~m scales)
Climate adaptation and mitigation: Interactions between urban ecology and urban heat island in a changing climate, green and cool roofs, energy consumption and savings with best practices
Air quality modeling: meteorology and atmospheric chemistry feedbacks
Honors and Awards
Fellow, Royal Meteorological Society (2016-present)
Executive Committee Member, Illinois Center for Urban Resilience and Environmental Sustainability (IL-CURES) (2019-present)
Grants
National Science Foundation (NSF): A Proposed Workshop on Interdisciplinary Sustainable Solutions for Urban Systems in a Changing Climate (Award no: 1929856); PI Donald Wuebbles, Ashish Sharma, Lei Zhao, and Amy Ando; duration: 05/01/2019 – 04/30/2020; $50,000
DOE, DoD, NASA, and NOAA: A Proposed Workshop on Urban Scale Processes and their Representation in High Spatial Resolution Earth System Models; PI Donald J. Wuebbles (UIUC), Katherine Calvin (PNNL), Charles Catlett (ANL), Beth Drewniak (ANL), Rao Kotamarthi (ANL), Ashish Sharma (UIUC): 10/01/2018 - 09/30/2019
EPA Great Lakes Restoration Initiative (GLRI): Cover crops prevent nutrient runoff and promote climate resiliency in Great Lakes watersheds (GL 00E02207); PI Alan Hamlet (ND), Ashish Sharma (UIUC), Jennifer Tank (ND), Sheila Christopher (ND), and Todd Royer (IU); duration: 08/01/2017 – 07/31/2020; $564,314
Selected Publications
Kristovich, D.A., Takle, E., Young, G.S. and Sharma, A., 2019. 100 years of progress in mesoscale planetary boundary layer meteorological research. American Meteorological Society 100-Year Anniversary Monograph. https://doi.org/10.1175/AMSMONOGRAPHS-D-18-0023.1.
Sharma, A., Hamlet, A.F., Fernando, H.J.S., Catlett, C.E., Horton, D.E., Kotamarthi, V.R., Kristovich, D.A.R., Packman, A.I., Tank, J.L. and Wuebbles, D.J., 2018. The Need for an Integrated Land‐Lake‐Atmosphere Modeling System, Exemplified by North America's Great Lakes Region. Earth's Future, 6(10), pp.1366-1379. https://doi.org/10.1029/2018EF000870.
Sharma, A., Woodruff, S., Budhathoki, M., Hamlet, A.F., Chen, F. and Fernando, H.J.S., 2018. Role of green roofs in reducing heat stress in vulnerable urban communities—A multidisciplinary approach. Environ. Res. Lett., 13(9), p.094011. https://doi.org/10.1088/1748-9326/aad93c.
Sharma, A., Fernando, H.J., Hamlet, A.F., Hellmann, J.J., Barlage, M. and Chen, F., 2017. Urban meteorological modeling using WRF: a sensitivity study. Int. J. Climatol. , 37(4), 1885–1900. https://doi.org/10.1002/joc.4819.
Sharma, A., Conry, P., Fernando, H.J.S., Hamlet, A.F., Hellmann, J.J. and Chen, F., 2016. Green and cool roofs to mitigate urban heat island effects in the Chicago metropolitan area: Evaluation with a regional climate model. Environ. Res. Lett., 11(6), 64004. https://doi.org/10.1088/1748-9326/11/6/064004.
Conry, P., Sharma, A., Potosnak, M.J., Leo, L.S., Bensman, E., Hellmann, J.J. and Fernando, H.J., 2015. Chicago's heat island and climate change: Bridging the scales via dynamical downscaling. J. Appl. Meteor. Climatol., 54(7), 1430–1448. https://doi.org/10.1175/JAMC-D-14-0241.1.
LDAP Details for

Sharma, Ashish